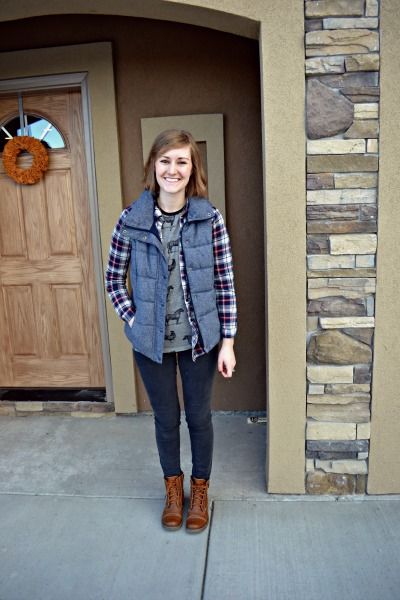 boots: c/o Wanted; jeans: Target; tee: Target men's section; flannel: Rue 21; vest: Old Navy
Wednesday night mutterings:
Whoa, an outfit post?! Who am I even? I feel like it's been forever since I threw a camera at my husband and asked him to work some magic (that sounds dirty...unintentional). Anyways, I came down with a cold and was feeling pretty miserable today, so I cheered myself up by shaving my legs, getting dressed, and documenting it...the getting dressed part, because no way are my pasty white stems showing their face on the www.
Anyways, this is in front of our brand new front door! I've had that same wreath up for years now and I want a new one, but wreaths are like $40 and...no. So until I can DIY myself something snazzy (HA), old felty it is. I don't know why going wreathless isn't an option for me.
Save for one or two boxes in the office, we're pretty much settled in the new place--pictures are hung, closets are sorted, blinds are installed (we were flashing the neighborhood for the first two weeks). It feels good to be here and to know it's not temporary. Even Joony's mastered the stairs and the small room under the stairs (which we've deemed his Harry Potter room). I keep meaning to take house tour pictures, but then when I have a free, quiet minute in a tidy room, all I want to do is curl up with a book or an episode of New Girl and have a snack. Mom life FTW.