I tidied up Joony's room last week and wondered if I'd ever taken pictures of it--his first own room! It's not Pinterest worthy, all sparse and Scandinavian with only wooden toys (do kids actually
play
in those rooms anyways?), but it's his space in our home and he loves it.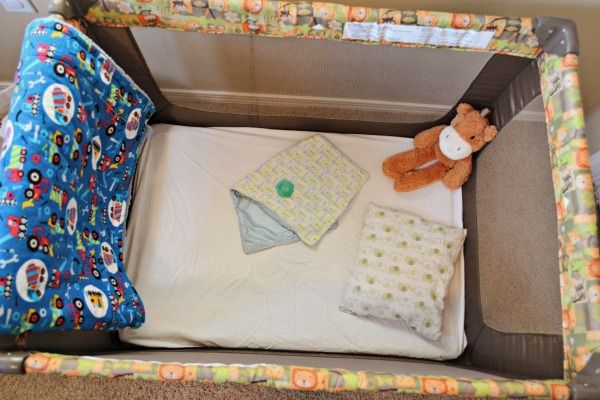 He sleeps in a pak n' play--how weird is that? He was in our bed for 8 months, then a floor bed for 6 months, and by that time it seemed silly to buy a crib. He loves his little bed. My mom sewed him his little lovey and his big blanket, and I made his mini pillow.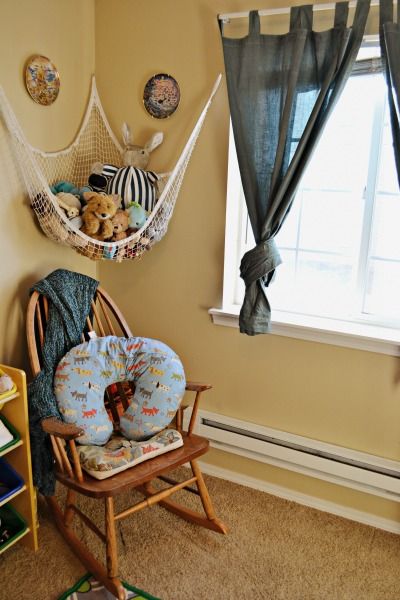 I dyed those curtains and I love how they turned out!...although right now they're too long with the heater right below the window. My mom rocked all her babies in that rocking chair and I love that I get to have it now. I get sentimental every time I sit down in it, which is often.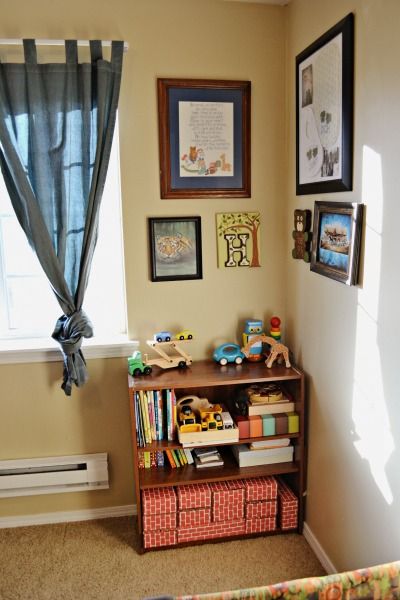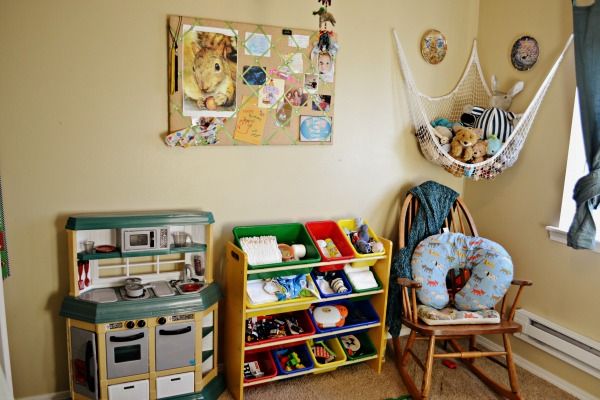 A few things about my Joobydoo right now (21 months old!) that I don't want to forget:
+ He says thank you--"day doo!" for
everything
. If I make him breakfast, or find a missing member of the Hot Wheels fleet, or set up his little tent, I get thanked. The other day we did a drive through car wash, and he got really scared by the dark and all the noisy machines. I turned around to hold his hand and comfort him, and as soon as he grabbed my hand, he said between sniffles, "Day doo, mama." Melted.
+ Speaking of hand holding--he likes to hold my hand any time we're driving at night. I think it's because he can't see me as well and needs the reassurance? So worth the dead shoulder and wrist to have that pudgy hand wrapped curled up in mine.
+ Naps 2-3 hours every day, right at noon, and 11-12 hours a night. He is a great sleeper right now.*
+ Loves dogs and cats and "talks" to them--"Woo, woo!" for dogs, and "Oooowww!" to cats.
+ Copies my morning routine as I'm doing it. I put on deodorant, then hand it to him (with the lid on), and he rubs it on his armpits. Every step of my make up routine gets copied by him, carefully, and then he hands the brush or eye shadow or whatever back to me and waits for the next thing.
+ Knows when we're getting off the highway exit for David's work and starts yelling, "Dad?
DAD?
" Flips the F out when Dave gets home every night. Mostly just loves his Dad a whole dang lot.
+ We listen to a lot of Mumford & Sons while driving. You know how they'll do a little
Woo!
before a particularly awesome banjo solo? Joony
loves
that. When he hears it he does a high-pitched
WOO!
back.
+ He cuddles a little more lately. Sometimes he just wants to be held, and he'll rest his head on my shoulder and chill out for a few minutes. It's always the best part of my day.
I know there's a lot more, but that's all I can think of right now. J is a whole buttload of cute and a whole buttload of mischief and we are the luckiest to be his parents.
*I always feel the need to tell you that our first year was Sleep Deprivation City. If your baby isn't sleeping and you're tired and frustrated and feel like everyone else's newborn is "OMGSLEEPING THROUGH THE NIGHT CAN YOU BELIEVE IT?!"...it will get better. I promise you that someday you will sleep again, and I'm sorry you're so tired and I've so been there and it is really hard.