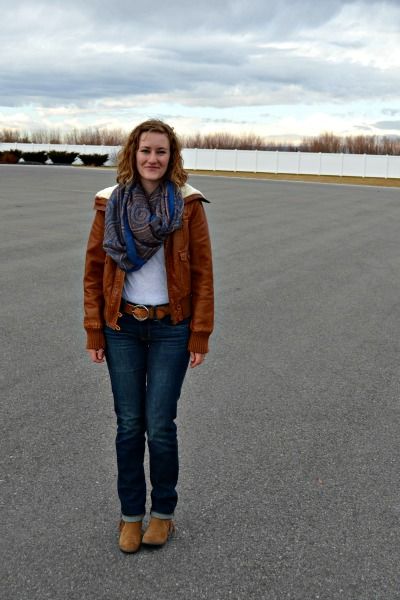 boots/tee/jacket: target; belt/jeans: ae; scarf: vanity
- I KNOW I put "breathe" instead of "breath" in the title, but my high school actually made those prom photo keychains with "Take My Breathe Away" printed on them and it makes me laugh and think of that whenever I hear the song.
- I'm all Top Gun: short permed hair, leather jacket, boots...80's all the way over here, okay?
- Today is the best day ever. It's David's day off, I'm wearing a cozy sweater, we got some doctor appointments out of the way, Joony's napping, and we're catching up on the Voice and eating
Amy's Kitchen pizzas
(the Margherita is
AMAZING
) for lunch. I really love Wednesdays.
- I've been taking 5:45 am workout classes every day this week and I'm pooped. WAR, PowerStep, Strength, Pilates tomorrow, Kickboxing on Friday, oh please just shoot me now. I can't even lift my arms higher than my shoulders right now, that is a fact.
- I keep reading news articles and tweets about Lena Dunham and David Sedaris at Carnegie Hall last night. WHY DOESN'T ANYONE COOL COME TO IDAHO TO READ ME AMAZING THINGS THEY HAVE WRITTEN? I loved
this interview of Mindy Kaling by Lena Dunham
*, and
this story by David Sedaris in the New Yorker
made me cry and laugh. People can be so smart and clever, and I love that the internet gives us such easy access to the things they think.
- And speaking of cool people, there is no TV couple cuter than Jessica Day and Nick Miller, but also Dr. Mindy Lahiri and Cliff Gilbert/eventually Danny Castellano. I'll say that's sufficient trash TV talk for one post, eh?
- The simplest luxury that David's day off from work affords me is going to the bathroom, unsupervised by my toddler. It's the little things, right?
* The best quote from said interview:

"I love seeing women stand up for things they believe in, teach their daughters how to do the same, prepare meals out of whatever they have in their fridges, wear helmets when they ride their bikes, call BS when they see it, and accept that

feminism comes in a lotta different forms."