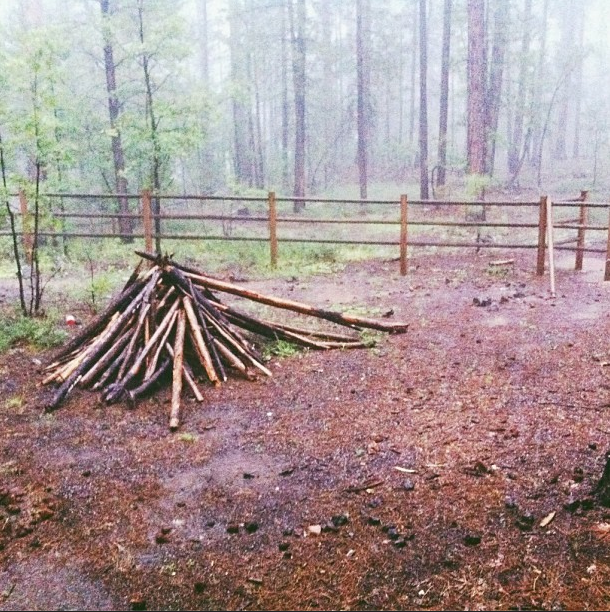 One more post about Arizona, and then back to outfits and Mom-ming and the usual. Promise.
My whole family peaced out of Pinetop early Friday morning, so there was crying and sniffling all around. It is an unfair trick of the universe that we're spread out like this, away from each other, and I'll try not to whine about it any more than that because I feel like I'm constantly complaining about missing my family.
David and I didn't have to check out until Saturday morning, and our flight out of Mesa left on Sunday afternoon, so we had a couple extra vacation days just the three of us. The timeshare we stayed at has an amazing playground, so went in the morning and the look on Joony's face every time he let go and slid down the slide was perfection--just pure, thrilled baby joy. I'm a little ashamed to say that we spent the afternoon lounging around, snacking on the vast amount of food left over from a week of my sister's cooking (she is
good
), and reading (me)/playing motorcycle iPad games (David) while Joony took a long nap
and then danced for us
.
We wanted to go swimming, but by early evening a storm was rolling in. Drizzly, grey weather is my favorite, so I was thrilled. Joony was woken up from his THREE hour nap by a huge clap of thunder directly overhead--it nearly made David and I jump out of our skin! He was terrified when he woke up, and I was so excited to run in and hold him and be his safe place.
Saturday was spent driving back down into the valley, where it was so hot I could barely breathe. It felt like one continuous hot flash. We got In n Out with an old friend, then shopped for shoes for David. If you know us in person, you know what a big deal this is because David never--
never
--buys new shoes. Late that night, I told him I was
starving
and would probably drop dead without sustenance. He headed out (because, even though I've been married over 5 years, I am still too young to drive a rental car : / #teenagebride) with my vague instructions of, "Like pizza or soup or a sandwich or something," and came back with Olive Garden takeout (which prompted
this tweet
), further cementing his place in my heart as my one true love.
Anyways, this morning we swam one last time in the Arizona heat with Joony, then boarded a plane back to Idaho. When we got in it had just finished raining and everything was cool and green and beautiful. We walked into a clean house, Joony is so excited to be back on familiar ground, and I am homesick for a place I have never lived in.
Until next time, Arizona.