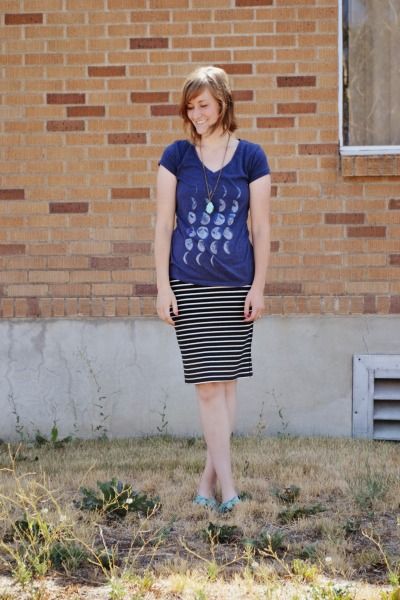 flats: ModCloth; skirt: Old Navy; tee: target; necklace: World Market
Things that make a happy weekend:
- A sweet, encouraging text from
a beautiful friend
.
- Joony gently stroking my arm every time I say, "Soft! Be soft!" (he's heading into a hitting phase and I'm not thrilled about it)
- Breakfast with a great friend and her smiley baby (a stark contrast from my solemn J)
- Making a road trip farewell box with candy and a kick-A mix CD
- Finishing
Natalie's Book of Mormon challenge
and starting another one right away! I decided to break this one up into two months and do 4 chapters/day. If you want to join you can
DL my reading chart right here
.
- My father in law coming into town! We got a long weekend with him and it was so fun. He even brought a little baby fake iPad for Joony, so they were instant BFF.
- Barbecue steak, twice baked potatoes, butternut squash, and for dessert...RED VINESS!
- I shared a personal story with the boys in our Sunday School class. At one point, I got a little teary, and a student said, "Well...this is pretty intense." Awesome.
- We went to BEAR WORLD, literally a world full of bears. They were everywhere and Joon was thoroughly unimpressed. The petting zoo was deemed worthy of a casual interest.
- Driving slowly by an adorable house we want to buy like complete creeper weirdos because we just love the neighborhood and the house and everything so so so so much.
- Our anniversary! 5 years, 1 month. We celebrate every month. True love and all that.
- One Direction in 3D, baby! Those little boys are like dancing puppies, so cute and little and sweet. Also Megs and I were the only ones in the theater, so...we're cool.