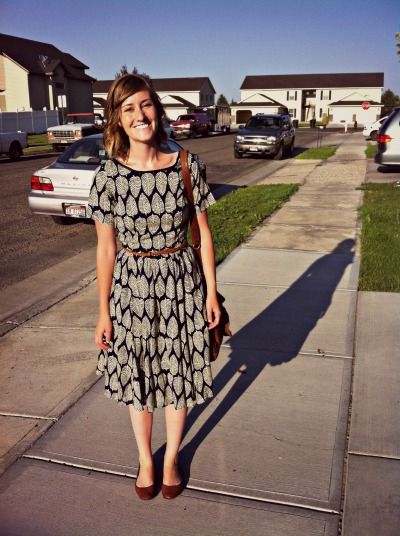 flats: target; dress: eShaktil; belt: panache; bag: lucky
Awesome picture location brought to you by the crowded street we live on, right before we dashed off to the most delicious dinner that's ever happened to our faces.
Things I Have Been Up To Lately, a list by Brandilyn Haynes:
1. Bogging less. Obvi. Some days I just don't feel it, so I don't force it.
2. Re-watching season 1 of New Girl. In the Landlord episode, they played "Send Me On My Way," by Rusted Root, and I wanted to download it. I ended up googling, "ommaway, ommaway song." Found it. Nailed it.
3. Celebrating my 5th anniversary in that eShakti dress you see up there! Carrie posted a $40 off coupon, and once I saw that dress, I knew it had to be mine. They altered the length and sleeves on account of modesty, and boom. Dream dress. No sponsored shennanigans here, I'm just excited about m'dress.
4. Following Joony around as he walks everywhere he goes. Literally...everywhere. Homeboy does not want to be carried anymore, thank you very much.
5. Lean Pockets and mini cans of Dr. Pepper just...all the time (ok, from time to time)
6. Not watching the Bachelorette, which makes Twitter and Facebook both annoying and curiosity-sparking. Where can I get a SparkNotes version of what happened so I don't have to watch an hour of crying and, "TONIGHT, on the Bachelorette..."?