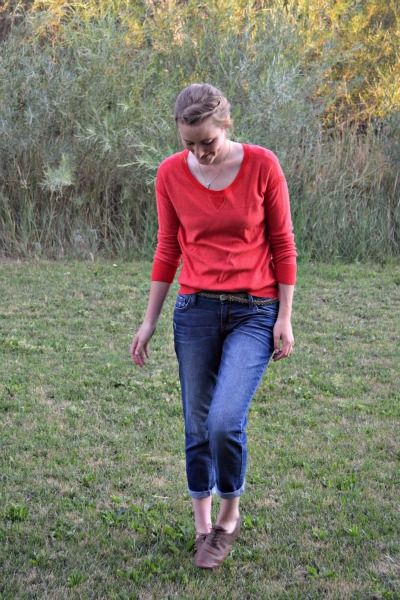 oxfords: target; bf jeans: old navy; sweater: ae; belt: panache; necklace: f21
I got my first pair of boyfriend jeans at Old Navy earlier this week, and they are my new favorites...not because they are especially flattering (they're not, tbh), but because dangit if they aren't comfortable! I don't mind crawling around on the floor with Joony all day in those jeans. I'm just, like, really blessed to have found these jeans.
As always after a trip, I'm in a funk. I get the post-vacation homesick blues. Joony is in a very clingy phase and not sleeping well, which isn't helping matters around here. Yesterday we cuddled in bed for most of the morning, mutually agreeing that sometimes that's just necessary. I was supposed to bake a pie for our stake's Pioneer Day celebration (what? it was Pioneer Day? #badmormon). I totally spaced it until about 4:00, when I ran over to the grocery store and bought a pre-made one which, for the record, looked and smelled way better than anything that's come out of my kitchen.
When the time came to drop it off at the picnic, I googled directions to the park and took off in the blistering heat. I circled our little town with Joony whining in the backseat and found no park with a Pioneer Day celebration happening. Hot and frustrated, I went back home, turned on the AC, and ate a slice of the pie straight out of the tin in my underwear.
When David got home, I had a lovely family dinner waiting...
corn bread in the oven
, the table set with a can of soup in each our bowls, and cans of Dr. Pepper. We finished off the night with Burt Wonderstone and pints of ice cream eaten straight out of the carton.
In conclusion, I hereby declare yesterday a complete and utter HOUSEWIFE FAIL.