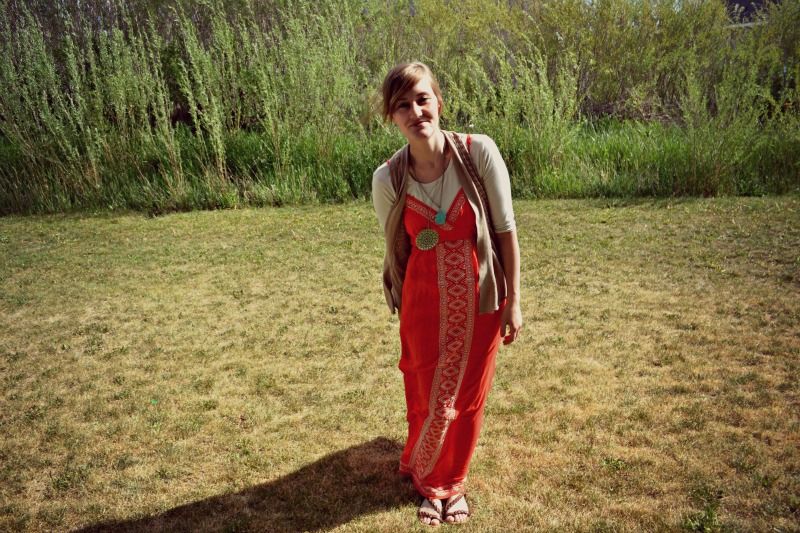 sandals: target; maxi: panache; undershirt: c/o half tee; vest: buckle; necklaces: gift/world market
My sister and niece have been here visiting since Friday, and my bff Shpitty just moved back into town (once you go Idaho, you never go back! ...sometimes), so my week has been jam-packed with butt jokes and laughing so hard at fart sounds that I can't breathe. I've also been scolded for missing days of blogging, so I'm here to post the following updates:
- We've been debating the merits of cloth vs. disposable diapers pretty heavily over here. The problem is that we don't have a right or wrong side, just two pretty convinced opinions and no clear solution. Hmph.
- So much more good food than just the stuff I listed in my last post (which was a lot of good food). We've had stuffed bell peppers, fried rice, pizza,
mind blowing
hot dogs, deviled eggs, cookies...omg. So much good food.
- Killed our first hobo spider, and it was inches from my niece's head. Cue heart attack.
- A cold me, a cold for David. We're sickies and it suckies. Hopefully it's just a quick thing and we'll be back on our feet shortly.
- Joony is soso close to walking. A little bit of balance and a lot more confidence and he'll be off sprinting, taking my heart with him and leaving me a heartbroken puddle of tears behind him.