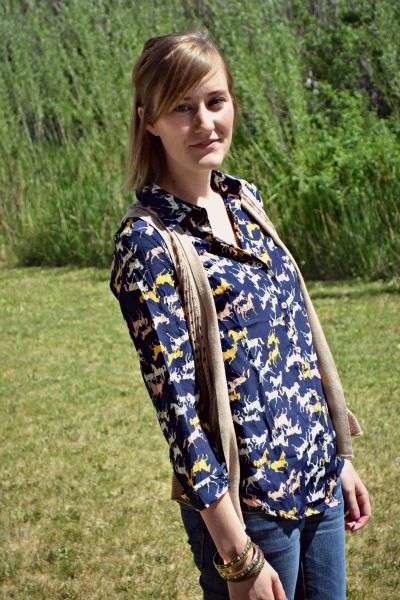 Freaking A, a
blouse with horses on it
! And not only horses, horses with English saddles on them. Be still my heart, I flipped out when I saw it. I love clothes with animals on them.
LATELY:

- We still love the bike trailer we got for Joony! I've been out for a couple rides with him (I even attached it to my bike on my own and impressed myself) to get groceries and be out of the house for a bit. I can already tell it's going to get a ton of use this summer.

- Joony has started mimicking gestures big time and it is so funny. Sticking his tongue out, waving, patting his head. He also comes "sprinting" (crawling as fast as he can while panting loudly) when he hears something interesting happening in a different room than he's in.

- I left for a run last night as a grumpy lady and came home with a happy running high to find a tidy kitchen and front room, a tall glass of ice water, and a slice of chocolate cake. +1 for David.

- You know those zits that brew deep underground in your face for like a week before they show their evil selves and it's painful and terrible? (Gross, I know, sorrynotsorry) I've had TWO of those in the last week or so. Awful. My skin needs to get her act together.


P.S. OK, this is my last post as C&C...tomorrow we switch, and just in time for my birthday, WAHOO!