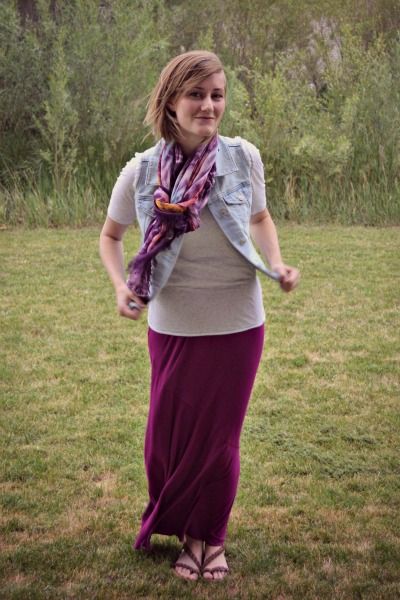 sandals/tee: target; vest: old navy; scarf: panache
As I said before, June is the month of the house guest, and my house has been so full of people I love that I haven't felt much like blogging. It's a beautiful thing when real life just gets too good to step away from, you know?
CURRENTLY
Watching
: 30 Rock for the first time. I know, I know...how is this not already on the list of shows I watch? Sue me. Laugh out loud moments so far: Liz Lemon as Princes Leia saying, "I don't think it's fair for me to be on a jury, since I can read minds..." and Tracy Jordan, shirtless, being held like a baby by one of his bodyguards, sucking his thumb.
Thinking about
: Blogging. Blogs. What to blog about, when to blog, IF to blog. You know, that. It's a love-hate relationship for sure.
Reading
:
What To Expect: the Toddler Years
. Honestly...I'm not a huge fan of the WTE books, but I do like to skim through from time to time. Also,
Montessori From the Start
. So just boring parenting books right now, although I'm planning on jumping into some good fiction soon.
Celebrating
: My BFF Shpitty's birthday! We're going to eat awesome food and party all day long. Hopefully the Joon-man is in good spirits today.
Making me happy
: Birthday cake Oreos...but also being surrounded by so many people I love. It's been a kind of lonely year for me, and having my birthday month filled with my favorite people has meant the world to me.
'Currently' post inspired by Danielle
Follow my blog with Bloglovin